How brand identity and campaign helped Zaatar to become people's favourite Arabian food destination in town
Zataar wa zaitoon is an arabian restaurant in thrissur. They provide a collection of various cuisines especially they serve the best malabar food in thrissur. They are well known for their dishes and also the master chefs who make this possible.
Challenges
The arabian restaurant zataar wa zaitoon first approached us to help with their brand launch. It was a real challenge to complete such a huge task in the given time. The location of the restaurant is a highly populated, crowded city. So, the market we had to tackle was highly competitive because it is the heart of the city and we had to come up with something special in branding strategy and also in design strategy.
The only benefit we had in this time was the lack of quality malabar food in that area. Even if we have this plus point , we still had to work on how we are going to implement the ideas and to create a hyke in a short time and succeed in it.
Solutions
Sometimes the unusual ways brings us better results. So,we decided to start the project with a hoarding rather than going directly to branding. A brand guideline was created and also started interacting with people and potential customers in thrissur. Design strategy was brought forward and in this strategy, every aspect of the branding was included. Lighting, coloring, feel, ambience, everything needed a pattern. So, for the interior we suggested was a warm color and to create an arabian style and this style was implemented on name and logo. Worked on the premium feel of the brand and used this on both online and offline strategy. Designed more hoardings and posters following the same strategy. Implemented research validated brand style. Along used wordings like "baakki kazhicht samsarikam", which means "we can talk after the food" and "alpam choodayalo" which means "let's have something hot" in Malayalam respectively.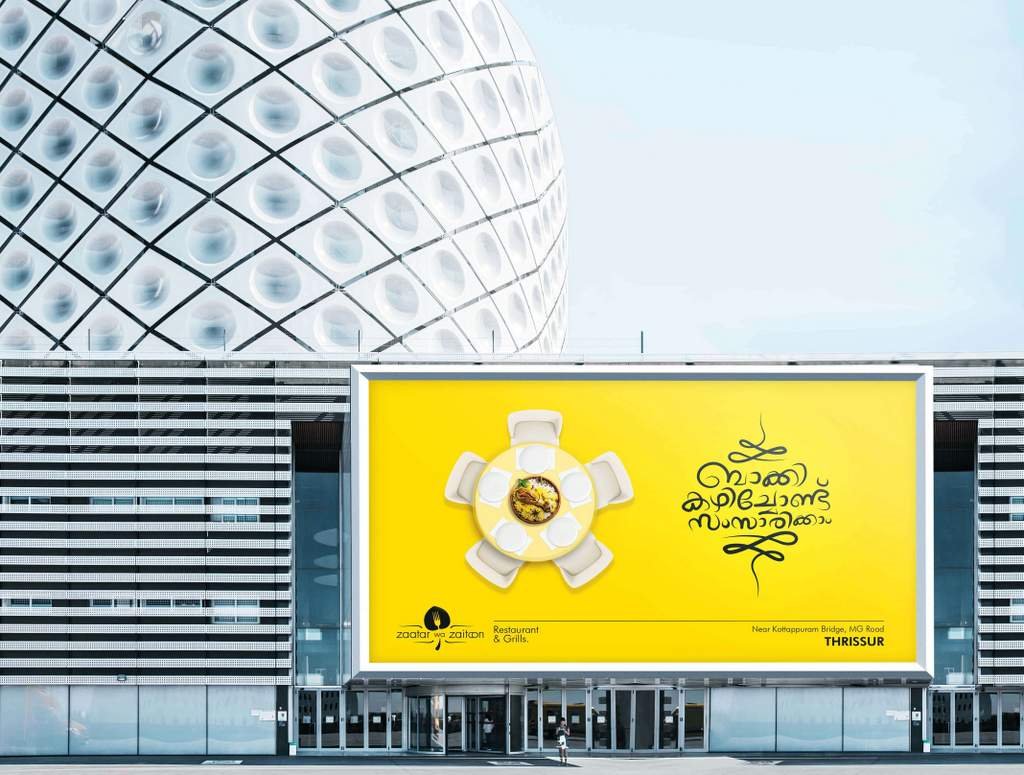 Results
The solutions we implemented played their part and they worked better than we imagined. Zataar became a familiar and favorite brand in the area. Zataar got engagement through online and offline before the inauguration. People and potential customers already knew the restaurant and they were eager to find out what zaatar had to offer. This is a great success in branding and marketing for any team. The strategies we implemented were the best and hype created at the inauguration continued in the following days.
Request A Proposal
One of our experts will get back to you within the day to discuss your branding & ad-campaigning goals and to give you a sense of what our team can do for you.
INDIA (Head Office)
1521, Fifth floor,
Hilite Business Park,
Calicut
+91 81388 34568

QATAR
Room No. 45,
Zone 23, Building No. 2
Near Indian Hypermarket,
Bin Mahmood
+974 5032 2270

UAE
Khalifa Street,
Abudhabi
+971 58936 5 937